10 Divorce Mediation Tips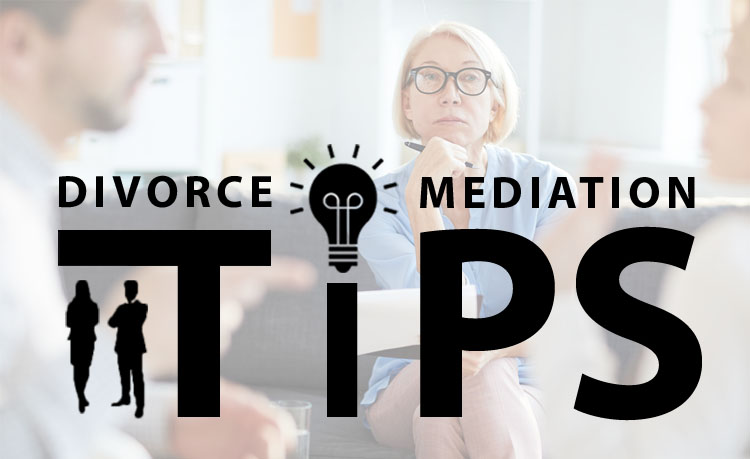 Get prepared for divorce mediation. We put together a list of divorce mediation tips to help you get prepared.
1. Download a Divorce Mediation Checklist
A lot of mediation clients say that the preliminary document-gathering stage is the least pleasant part of the process. They also say that after they collected and provided all the documentation for their attorney-mediator, the sessions themselves ran a lot more seamless than they ever could have dreamed of.
As a result, putting in the effort, time and preparation beforehand in gathering all of the necessary information. Doing this will pay huge returns later for each of you when later examining your estate with your mediator and together making those critically important decisions for your corresponding futures.
Here is a divorce mediation checklist, and over a dozen key matters to be talked about with your spouse to assist you in resolving your divorce or separation.
2. Find a Good Mediator
The best divorce mediation tips you can receive is to find a good mediator. Don't just choose any mediator because their price might be low, or they had the most reviews. Instead, find a mediator who has experience with the types of issues in your situation.
EquitableMediation warns against hiring unexperienced mediators and suggests working with a certified mediator that has years of experience and is continuing their education.
3. Speak with Your Lawyer First
Mediators are not allowed to give you legal advice. Only your lawyer will be able to let you know what your legal rights are. You are going to want to know how property is divided in your state, whether spousal maintenance will be included in your settlement, how child support is calculated, etc.
KarenCovy says, "If you don't know what you're doing, or you don't understand how mediation works BEFORE you walk in the door, you dramatically decrease your chances for success."
4. Discuss Important Topics Only
Don't waste valuable time focusing on placing blame or expressing anger towards your spouse. That will only cost you more money. Spend time discussing important topics only. You will reach an agreement faster and the mediation will cost you less money. Especially if your mediator works on an hourly fee.
MWI says, "you might want to ask yourself what you can do to reframe these negative expressions into something more constructive, so that you are not wasting your time and money."
5. Set Goals Before Mediation
What is a fair settlement between you and your spouse? Can you compromise and negotiate? Make sure you have goals in mind before attending divorce mediation sessions. Do you have children and need to work out parenting time and child support? Do you have a lot of marital assets to divide? Are you expecting to pay or receive spousal maintenance?
SouthShore says, "A spouse who approaches mediation with clear goals in each of these four categories is likely to excel, while a spouse who does not know what he or she wants is likely to struggle."
6. Talk to Your Children
Divorce affects your children's lives too. Regardless of the age of your kids, you must communicate with them about what's happening. Talk to your spouse and set a time to talk to the children together. Make sure they know that both parents will continue to support and love them.
RocketLawyer states, "Do your best to provide a stable, positive and loving environment, and together explain whenever a change in routine or living arrangement is to occur."
7. Be Ready to Negotiate
Divorce mediation is all about negotiating a settlement that works for both parties and children. It isn't just about getting what you want or winning. It's about doing what's best for your family. Divorce mediation is all about compromise.
According to McNameeMediations, "You're going to have to give and take. You're going to have to be willing to give up some wishes that you might feel you deserve, to receive the majority of the items that are most important to you."
8. Share Financial Information
Don't try to hide assets of income. Lying about financial information does not lead to successful divorce mediation. A fair agreement is one where both spouses are truthful about financial information. You may want to gather pay stubs, W2's, 1099's, list of assets and debts, a copy of your marriage certificate, prenup if you had one, court filings, and other related documents.
DivorceNet says, "A settlement that does not give one spouse enough money to live on is likely to go into default in the future. Be fair, but verify the numbers."
9. Update Your Estate Plan
Most people don't realize they need to update their estate plan after divorce. Will you be selling the home you wanted to leave to your children? You might want to speak with a divorce attorney to see what changes need to be made to your estate plan before or after divorce.
10. Know Your Needs
Forming a budget is a great way to make sure you know what your expenses are going to be after mediation. Creating a spending will help you out in the mediation process and help you organize your new life. It also helps your mediator know what your needs are so they can communicate those rational and realistic options to bring the mediation process to a close. This will save you time and money vs going to court for divorce. According to MoneyCrashers, "the average litigious divorce in the United States costs $15,000, and the average mediated divorce runs approximately $3,000."
How to Prepare for Divorce Mediation
The best way to prepare for divorce mediation is to:
Speak with a Divorce Mediator in Phoenix, Arizona Today
Regardless of the choice you make, it's important you make the best choice for you when hiring a divorce mediator or divorce attorney. Remember: The decisions you make now can affect your future. Ultimately, choosing the best lawyer will depend on which lawyer feels best for you and your situation. Let us show you how to end your marriage today without ending your family.
Ogborne Law can help with divorce mediation in Phoenix, Arizona, and surrounding areas. Our law office is located at 5020 E Shea Blvd Suite 240, Scottsdale, AZ 85255 inside the Paradise Valley Plaza.
See Also:
Engaging with an attorney to protect your family is never an easy step. Whether you need to protect your family from the unthinkable or restructure your family through collaborative divorce, we're here to help. When you're ready to schedule a consultation with Michelle Ogborne, please visit the scheduling page to get started.