NEVER HIRE CHEAP DIVORCE LAWYERS IN PHOENIX, ARIZONA
Looking for cheap divorce lawyers in Phoenix, AZ? Heard of $99 divorce, $200 divorce, or $299 divorce, and wondering how you can take advantage of that? There are options for cheap divorce in Phoenix, but you should know that hiring a cheap divorce service or a paralegal is not always a wise decision.
NEVER HIRE CHEAP DIVORCE LAWYERS IN PHOENIX, AZ
Rocky Lang decided to hire a cheap divorce lawyer and regretted doing so. Read Rocky's story about his cheap divorce and why he wished he should have hired a professional divorce lawyer to handle his case. But, that doesn't mean there aren't more affordable divorce options available. Alternative divorce options like divorce mediation and collaborative divorce are very affordable divorce options that can help you save money on your divorce vs expensive divorce litigation.
MEET OUR DIVORCE LAWYER IN PHOENIX
In 2014, Ogborne Law transitioned the focus of the firm towards collaborative divorce processes, working with the entire family to help manage the divorce, ensuring that every party's needs are met and that the family relationships are still kept intact even though the marriage ended.
If you want to work with a law firm that is focused on providing you comprehensive solutions for your family law situations and that has an experienced team in a variety of related disciplines, you need to contact Ogborne Law today.
AFFORDABLE DIVORCE OPTIONS IN PHOENIX
There are a couple of affordable divorce options in Phoenix if you and your spouse are willing to work together to brainstorm and negotiate a separation agreement with the help of a divorce mediator or collaborative divorce lawyer. Learn more about uncontested divorce options that can help you save money on your divorce.
DIY DIVORCE IS THE CHEAPEST DIVORCE OPTION
DIY divorce is one of the cheapest divorce options you can find in Phoenix. Do-it-yourself divorce will cost you anywhere from $300 to $1,500 according to HuffPost.
DIVORCE MEDIATION
Divorce mediation in Arizona costs about $7,500 per side, with average prices ranging anywhere from $5,000 to $10,000 per side in AZ for 2019, according to MoshierLaw.
COLLABORATIVE DIVORCE
On average, collaborative divorce in Arizona costs about $37,500, with average prices ranging from $25,000 to $50,000 in Arizona for 2019 according to EquitableMediation. This is much less than the cost of divorce in court. BestLegalChoices says, "In terms of monetary impact, the cost of collaborative divorce can be significantly lower than traditional litigation. Because every case is unique, the exact cost of a collaborative divorce can vary from couple to couple."
UNCONTESTED DIVORCE IN PHOENIX
An uncontested divorce, also known as out-of-court divorce, is normally the cheapest form of divorce you can find in Phoenix.
CONTESTED DIVORCE IN PHOENIX
A contested divorce, also known as a litigated divorce or divorce-in-court, is the most expensive divorce option as you both hire lawyers to help create a separation agreement for you. According to MyLifeLawyer, "The simple truth is that divorces are expensive because the parties can't agree."
HOW MUCH DOES A DIVORCE COST IN PHOENIX, ARIZONA?
Divorce in Phoenix, Arizona costs about $20,000 per side on average with costs ranging from $15,000 to $100,000 per side when hiring a lawyer to litigate your divorce, hiring expert witnesses, and other factors. Family lawyers in the Phoenix area charge between $250 to $550 per hour on average. If you hire an experienced divorce lawyer in Phoenix, the cost can be as much as $400 to $750 per hour. The average cost of divorce in Phoenix if you choose to file yourself is $577. However, creating your own divorce agreement can be dangerous if you don't know what should be included in the agreement. Learn more about divorce costs in Arizona.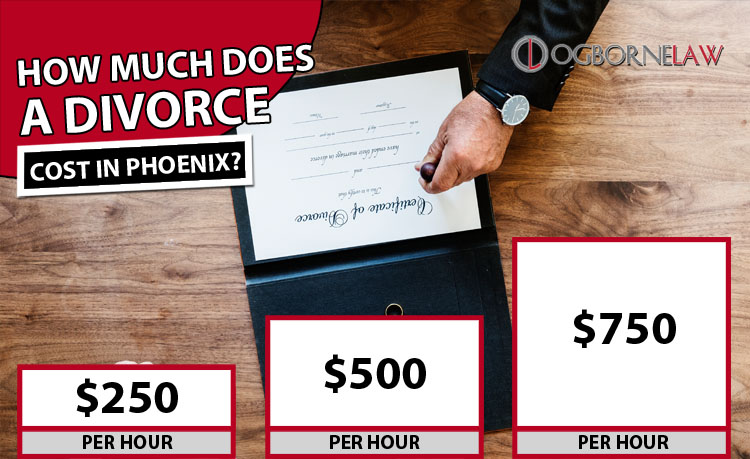 CHOOSE THE RIGHT DIVORCE LAWYER IN PHOENIX
Regardless of the choice you make, it's important you make the best choice for you when hiring a divorce attorney. Remember: The decisions you make now can affect your future. Ultimately, choosing the best lawyer will depend on which lawyer feels best for you and your situation.
If you want to learn about Michelle N. Ogborne and see if she is the right attorney to represent you in your collaborative divorce in Arizona, contact us today!
Contact Ogborne Law today and let us show you how we can help protect your kids and your family.
The information you obtain at this site is not, nor is it intended to be, legal advice. You should consult an attorney for advice regarding your individual situation. We invite you to contact us and welcome your calls, letters, and electronic mail. Contacting us does not create an attorney-client relationship. Please do not send any confidential information to us until such time as an attorney-client relationship has been established.