If you are searching for collaborative divorce lawyers or attorneys in Phoenix, Arizona, Ogborne Law can help.
Ogborne Law is a collaborative family lawyer with extensive experience working with families during the divorce process and helping them meet their individual needs.
Our law office is located at 5020 E Shea Blvd Suite 240, Scottsdale, AZ 85254 inside the Paradise Valley Plaza.
Sometimes a marriage just doesn't work out.
Maybe it's emotional distance or changing priorities in life but there can come a moment when you realize that you don't want to be married anymore.
Collaborative Divorce Lawyer
Michelle N. Ogborne is a collaborative divorce lawyer serving Phoenix, AZ and surrounding areas.
Michelle opened Ogborne Law in 2012 to provide families with a new way of dealing with complicated and challenging issues. And with her passion for fairness and protecting the children and families, she put all of her focus into collaborative divorce as a tool to help families avoid the potentially destructive outcomes of divorce on their kids.
At Ogborne Law, we recognize that even though you may have built a life together, there can come a time when the next stage of life involves growing apart.
But we also know that what you've built together – your family, your assets, and your lives – matter to you and you want to preserve them in the face of a divorce.
Why accept the traditional divorce with its ugly public fights, inflated legal bills, and emotional pain for your kids?
Working with our experienced collaborative divorce team allows you to do what's best for your children and yourself that focuses on creating a win-win outcome.
Collaborative divorce is an investment in achieving your goals today and protecting yourself, and your family, for the future.
What Is Collaborative Divorce?
Collaborative divorce, also know as collaborative law or collaborative practice is a legal divorce process allowing couples who have made the decision to end their marriage or separate to work with collaborative professionals of their choice including collaborative lawyers, communication coaches, and financial neutrals to avoid court and reach a settlement that meets the needs of both spouses and children.
In the simplest form, "a collaborative law divorce is a process by which parties use mediation and negotiations to settle their divorce" according to FamilyFindLaw. The collaborative process allows both parties to reach a fair settlement.
One of the biggest benefits of collaborative law is that it can help you save money when compared to high cost of litigating your divorce.
Ogborne Law Collaborative Divorce
At Ogborne Law, we have extensive experience working with families during the divorce process and helping them meet their individual needs.
We recognize that successful collaborative divorces happen when everyone involved is working toward a win-win agreement.
We also recognize that just because the goal is collaboration, the process can sometimes get difficult when emotions run high. That is why we are very deliberate in our approach to building the support system to help you.
When you partner with the team at Ogborne Law to pursue your collaborative divorce, you're making a commitment to yourself and your family.
Your collaborative divorce team consists of the following professionals:
Independent attorneys representing you and your spouse
Professional counselors to help manage the emotional impact
Financial advisers to provide smart and fair recommendations to divide assets
Experienced mediators to help manage the process and create a mutually acceptable final agreement
How Much Does Collaborative Divorce Cost?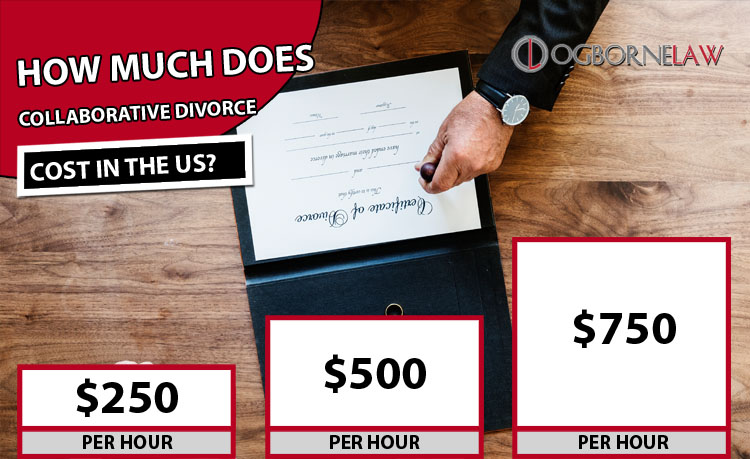 On average, collaborative divorce costs about $7,500 to $50,000 depending on which method of collaborative divorce you choose. Divorce mediation will cost anywhere from $7,000 to $10,000 to hire a mediator for divorce, according to EquitableMediation. Collaborative divorce, on the other hand, will cost you anywhere from $25,000 to $50,000. However, BestLegalChoices says, "While the cost of a collaborative divorce varies, many professionals are adopting a flat-fee model so you know what your costs are up-front." Learn more about collaborative divorce cost.
Collaborative Divorce Process
The collaborative divorce process includes learning about collaborative divorce, selecting a professional, building your team, making an agreement, and finalizing your divorce.
Learn about the Collaborative Divorce
Select a Professional
Build Your Team
Make an Agreement
Finalize Your Divorce
Collaborative Divorce vs Mediation
In a collaborative divorce, you have many professionals that you work with to come to agreement vs mediation where you only get help from 1 mediator. However, collaborative lawyers can only represent one side at a time and advocate for their client only. Mediators, on the other hand, take both sides. Their job is to help the couple reach a fair solution that works for both parties. One of the disadvantages of hiring a mediator is that they are not allowed to give you legal advice vs a collaborative lawyer who can give advice. The time it takes to complete your divorce is also different depending on which method of divorce you choose. Divorce mediation can complete in as little as 2 to 3 months vs a collaborative divorce which could take up to 8 to 14 months according to multiple sources.
Collaborative Divorce Advantages and Disadvantages
There are many advantages of collaborative divorce, including:
More peaceful than going to court
Costs less than divorce litigation
High Level of Confidentiality
Team of experts
No going back to court
Healthier relationship after divorce
Collaborative disadvantages include:
You must work together and trust each other
You must compromise
Is not the cheapest divorce option
Can Collaborative Divorce Work For You?
Despite similarities between families, we recognize that every divorce situation is unique with special circumstances and challenges that require careful understanding of all of the issues at play.
No matter your reason for wanting to pursue a divorce, a collaborative divorce can work for you and your family.
If you are willing to…
Play fair during divorce negotiations
Communicate openly, honestly, and share information necessary for mutual decision making
Commit to creating a win-win-win outcome for you, your spouse, and your kids
Hold off on any dramatic changes, especially those that impact the children, until final agreements have been made
Act in your children's best interest and focus on minimizing emotional damage as a result of the divorce
Then collaborative divorce might be the right solution for you and your family.
Speak With our Collaborative Divorce Lawyers in Phoenix, Arizona
While the collaborative process is not for everyone, it can save you money, stress, and hassle vs getting a litigated divorce. Speak with our collaborative divorce lawyers in Phoenix, AZ to find out if legal separation is right for your family.
If you're ready to start your consultation with Ogborne Law, visit our Collaborative Divorce Consultation request page.
The information you obtain at this site is not, nor is it intended to be, legal advice. You should consult an attorney for advice regarding your individual situation. We invite you to contact us and welcome your calls, letters, and electronic mail. Contacting us does not create an attorney-client relationship. Please do not send any confidential information to us until such time as an attorney-client relationship has been established.