Online Divorce Mediation Pros and Cons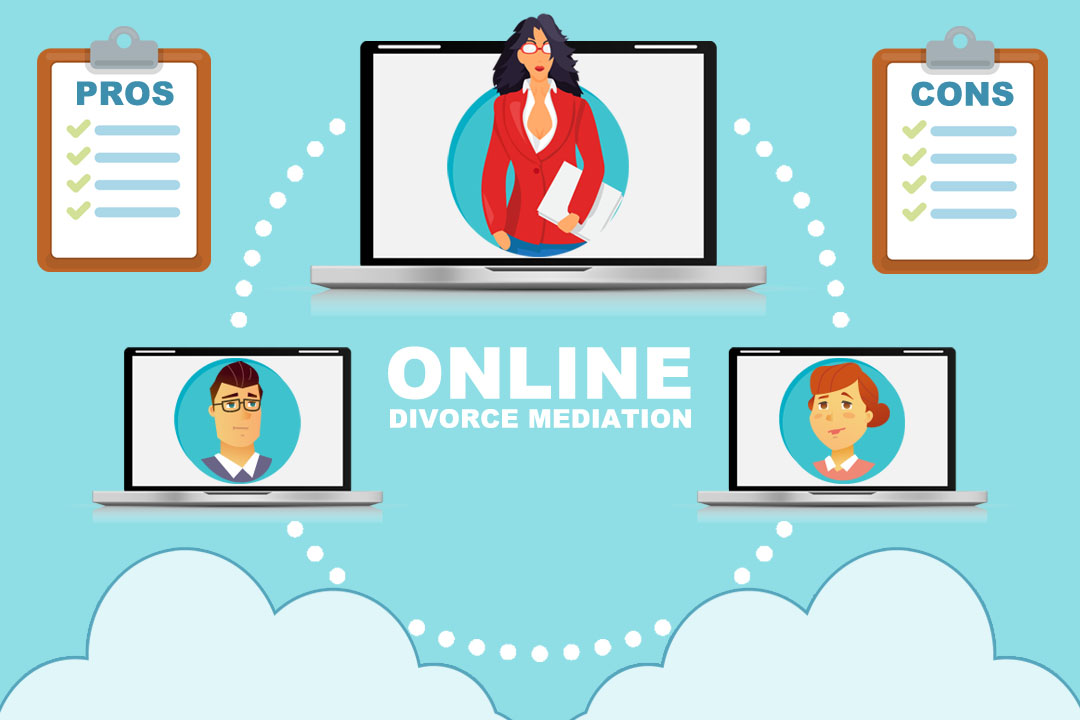 Online divorce mediation is a new way to negotiate and compromise a marital settlement agreement in a divorce case. Online divorce mediation will allow you to meet with your spouse and a divorce mediator from anywhere in the world. In online divorce mediation, you and your spouse, and lawyers for each of you if want representation, hire a neutral third party known as an online divorce mediator.
The divorce mediator meets with you in a virtual environment, via video conferencing platforms, and helps you resolve issues in your divorce. The online mediator's role is not to make decisions but to help create a conversation around a fair settlement so spouses can work out a resolution together.
Wondering if online mediation is right for your divorce? Read more about the pros and cons of online divorce mediation below.
Online Divorce Mediation Pros
The pros of online divorce mediation include:
Pro 1: Never go to court
Collaborative divorce happens out-of-court in a private setting. It results in a cooperatively crafted agreement between the parties about the terms on which they will end their marriage.
Pro 2: Professional help reaching agreements
An online divorce mediator is a neutral third-party that facilitates discussions between couples who are getting divorced. If you and your spouse cannot come to an agreement on your own, you may benefit from divorce mediation services.
Pro 3: Can be used to address a wide range of topics
The purpose of divorce mediation is to help both of you identify and resolve divorce issues. Online Divorce mediation services can be used to address a wide range of topics including but not limited to parenting plans, child support, custody arrangements, and division of assets.
Other pros of online divorce mediation include:
Simple online process
Online video conferencing
Mediate on your schedule
Divorce mediation from home
You both have more authority over the process and outcome
Mediation costs less than litigated/traditional divorce in court
Don't need an attorney to represent you
Promotes better communication or a collaborative decision-making process
Lessens post-divorce litigation
Process is Voluntary and informal
No fighting in court
More private
Shared costs between spouses
Spouses determine the timeframe and issues to address
You can litigate your divorce if mediation fails
Faster than a litigated divorce
Reduces stress compared to a litigated divorce
Lessen the negative effects of divorce on children
Online Divorce Mediation Cons
The cons of online divorce mediation include:
An online mediator is not allowed to give you legal advice
If you don't have a lawyer representing you, no one is looking out for your best interests
You don't have legal counsel to review the agreement before signing
Not appropriate for cases involving drug abuse or domestic violence
You could still end up in court if online mediation is unsuccessful
No formal rules and there is not a discovery process
The process of online mediation can fail if both parties cannot compromise or cooperate
You could agree to an unfair settlement
Lawyers in Online Divorce Mediation
Many couples are choosing online mediation for the fact that individual spouses are not required to hire a lawyer in order to participate. According to BestLegalChoices, "If the other spouse is represented and you are not, you may feel that the process is "less fair" even though the mediator's job is to provide neutral assistance. If you are afraid that you will get tongue-tied or feel less empowered by attending mediation alone, having a lawyer may help you to feel more confident."
Online Divorce Mediation vs Collaborative Divorce
If you feel like online divorce mediation isn't the right option for your family but you still want to keep your divorce out of court, collaborative divorce is another peaceful divorce option. You and your spouse will each have your own collaborative attorney looking out for your best interests while also helping to promote an agreement and outcome that benefits the entire family.
Speak with Our Online Divorce Mediators in Today!
While the online divorce mediation process is not for everyone, this simpler process can save you stress, money, and hassle compared to divorce litigation in court. Speak with an online mediator to learn more and find out if virtual divorce mediation makes sense for you and your family.
See Also:
Engaging with an attorney to protect your family is never an easy step. Whether you need to protect your family from the unthinkable or restructure your family through collaborative divorce, we're here to help. When you're ready to schedule a consultation with Michelle Ogborne, please visit the scheduling page to get started.