LEGAL SEPARATION IN ARIZONA
Ogborne Law can help with legal separation in Arizona. Our legal separation lawyers have many years of experience in drafting separation agreements. Our law office is located at 5020 E Shea Blvd Suite 240, Scottsdale, AZ 85254 inside the Paradise Valley Plaza.
WHAT IS LEGAL SEPARATION IN ARIZONA?
In Arizona, the legal separation process that allows a married couple to live apart and divide their finances while remaining married. According to FamilyFindLaw, "A legal separation, is a court order that mandates the rights and duties of a couple while they are still married, but living apart; in a divorce, the spouses are no longer married."
You can file for legal separation yourself as the forms are available on AZCourts.Gov. Filing for a legal separation without children is a different process than filing for legal separation with children.
Meet residency requirements in Arizona
File a legal separation petition
File a legal separation agreement
Serve your spouse and wait for a response
Spouse has a chance to file counter-petition
Sign and notarize the agreement
Wait for a judge to review the petition
Judge signs petition and puts it on record with a court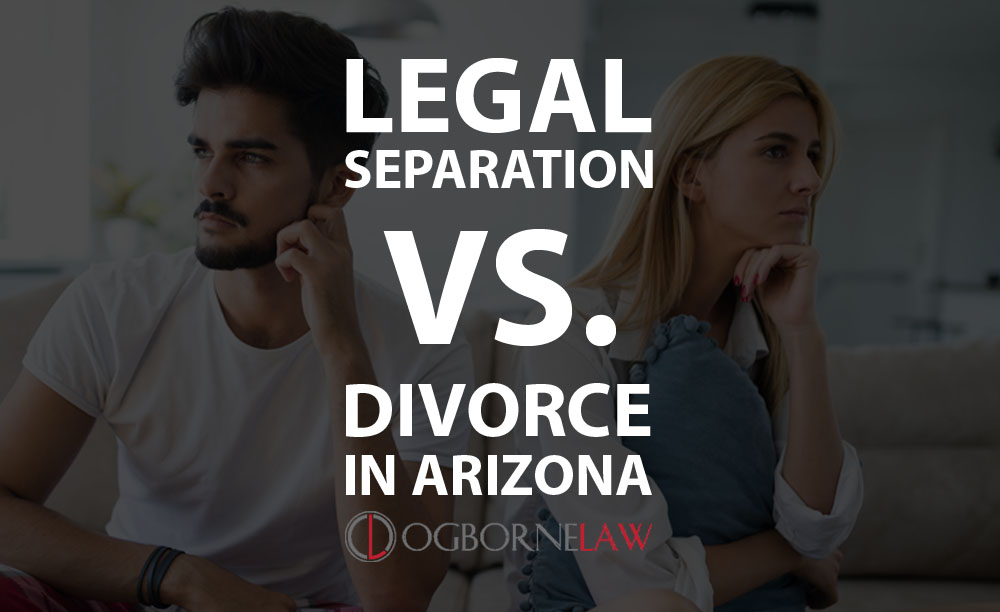 Legal separation and divorce in Arizona are alike in many ways. First of all, both are a form of divorce that creates space between spouses. In both divorce and legal separation, child support, child custody (legal decision making), spousal support (spousal maintenance), and division of assets and debts, are ordered by the court.
Simply stated, divorce and legal separation in Arizona create financial boundaries and rules that both of you are required to live by. According to LegalZoom, "If you get a legal separation, you are still entitled to certain benefits, such as Social Security and pensions that provide payments to surviving spouses."
WHAT'S THE DIFFERENCE BETWEEN LEGAL SEPARATION AND DIVORCE IN ARIZONA?
The biggest difference between legal separation and divorce in Arizona is that when you are legally separated in Arizona, you are still married, vs when you get a divorce in Arizona, you are not married anymore. In a legal separation, you can still receive marital benefits such as health care, social security, and others. Another big difference between legal separation and divorce is that in divorce you can still remarry vs legal separation where you cannot remarry.
SEPARATION AGREEMENT ARIZONA
A separation agreement is a contract made by a judge or spouses during the legal separation process or a divorce. A separation agreement should include how spouses will split or share custody (legal decision making) and visitation (parenting time) of children, whether spousal support (spousal maintenance) or child support will be provided, and how spouses will divide assets and debts. Both parties must agree to divorce terms before signing paperwork. If either party objects to the agreement, the court will make a decision on disputed issues.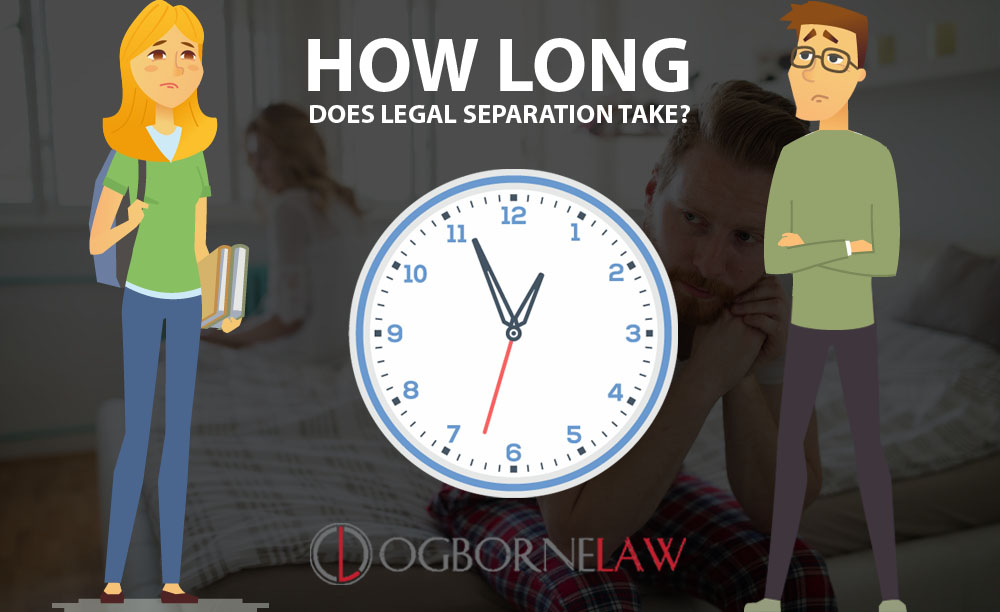 It takes about 60 to get a divorce decree in Arizona. According to AZLeg.Gov ARS 24-329, "The court shall not consider a submission of a motion supported by affidavit or hold a trial or hearing on an application for a decree of dissolution of marriage or legal separation until sixty days after the date of service of process or the date of acceptance of process."
The average time to finalize a legal separation is 90 to 120 days. However, the legal separation process can take even longer, up to six months, if your separation involves children.
The actual filing cost for a petition for legal separation in Arizona is $349 according to Arizona Judicial Branch under Supreme Court Filing Fees. Response to petition or initial appearance in legal separation costs $279. According to Canterbury Law Group, "The complete cost of legal separation can vary enormously, from as little as $1,000 to in excess of $100,000 when matters such as alimony, child custody and having to work through the disposition of a very complex marital estate are to be decided. So, you can imagine, there are many factors coming into play to determine the total legal separation costs."
On average, legal separation costs about $200 to $500 per hour to hire a legal separation lawyer. However, some legal separation attorneys can charge as much as $300 to $700 an hour depending on where you live.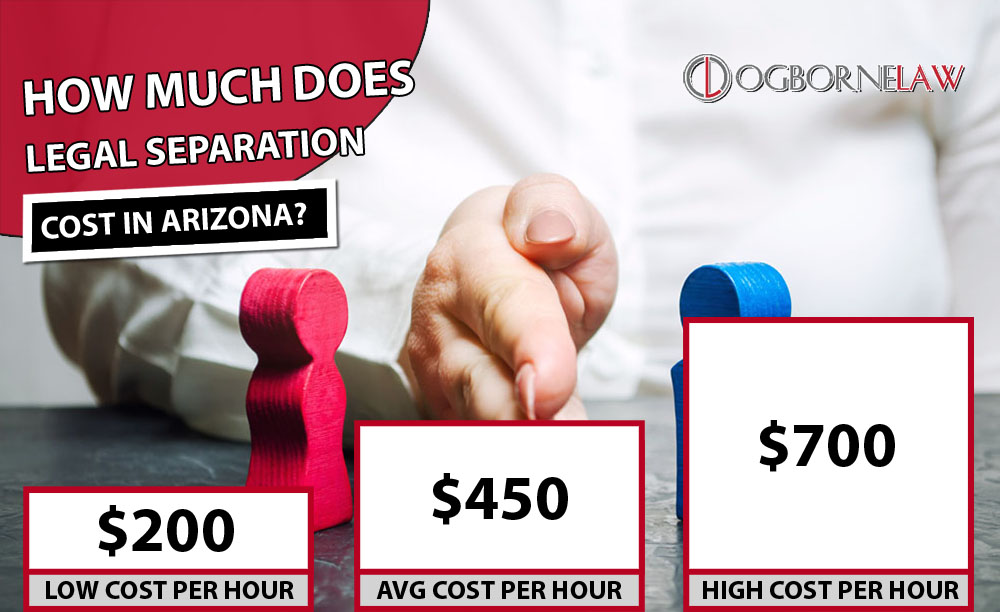 *Disclaimer – These fees are always changing, and this is not an actual quote. If you need an experienced legal separation lawyer contact Ogborne Law today.
SPEAK WITH OUR LEGAL SEPARATION LAWYERS IN PHOENIX, ARIZONA TODAY!
While the legal separation process is not for everyone, it can save you money, stress, and hassle vs getting a litigated divorce. Speak with our legal separation lawyers in Phoenix, AZ to find out if legal separation is right for your family. If you're ready to start your consultation with Ogborne Law, visit our Consultation request page.
Then collaborative divorce might be the right solution for you and your family. If you're ready to start your consultation with Ogborne Law, visit our Collaborative Divorce Consultation request page.
The information you obtain at this site is not, nor is it intended to be, legal advice. You should consult an attorney for advice regarding your individual situation. We invite you to contact us and welcome your calls, letters, and electronic mail. Contacting us does not create an attorney-client relationship. Please do not send any confidential information to us until such time as an attorney-client relationship has been established.