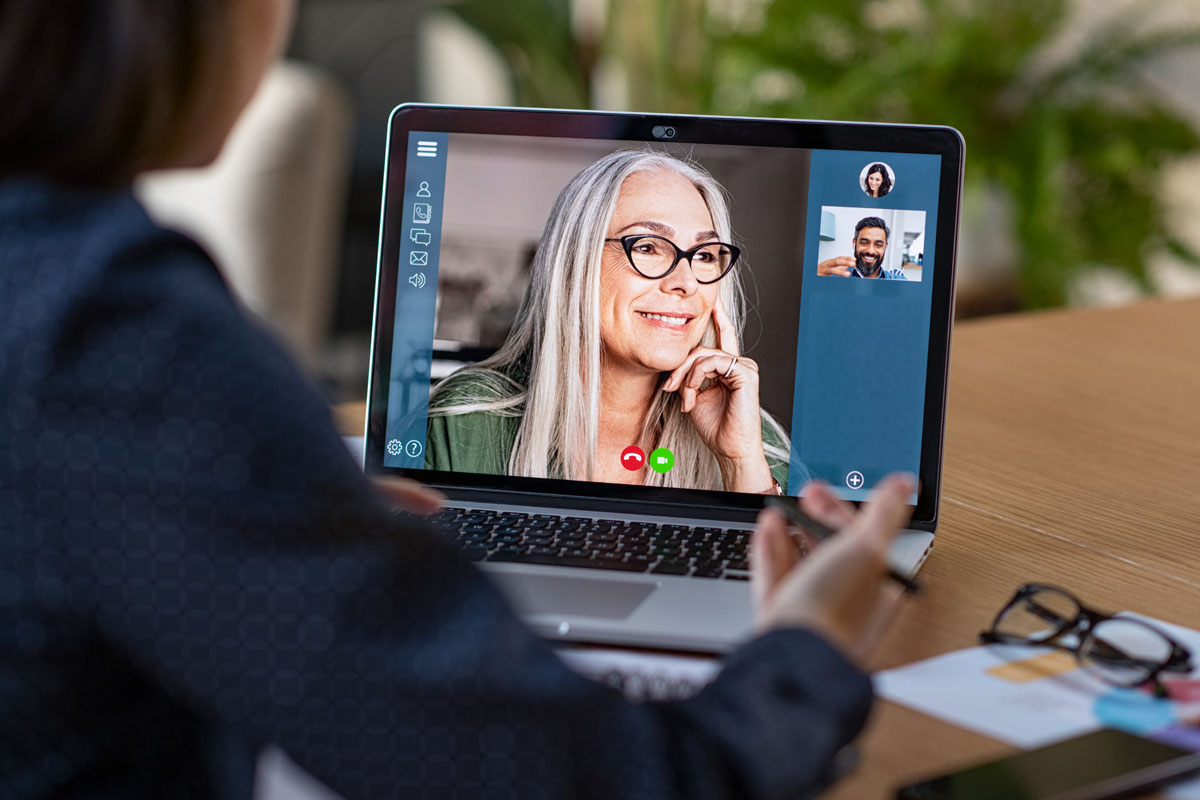 Is your case on hold? Consider virtual online divorce mediation services. You can still get a divorce mediation agreement while the courts are closed. We offer online divorce mediation services via video conferencing platforms. Online divorce mediation will allow you to meet with your spouse and a divorce mediator from anywhere in the world. Let us show you virtual divorce mediation online can be a perfect solution to allow you to end your marriage today without ending your family. Divorce in a more educated, informed, and civil way that protects the co-parenting relationship.
What is Online Divorce Mediation?
Online Divorce Mediation is a common way to negotiate an out-of-court settlement between you and your spouse. In online divorce mediation, you and your soon to be ex-spouse hire a neutral third party known as a mediator. The purpose of online divorce mediation is to help both of you identify and resolve divorce issues. Online Divorce mediation services can be used to address a wide range of topics including but not limited to parenting plans, child support, custody arrangements, and division of assets.
Online Divorce Mediation Pros and Cons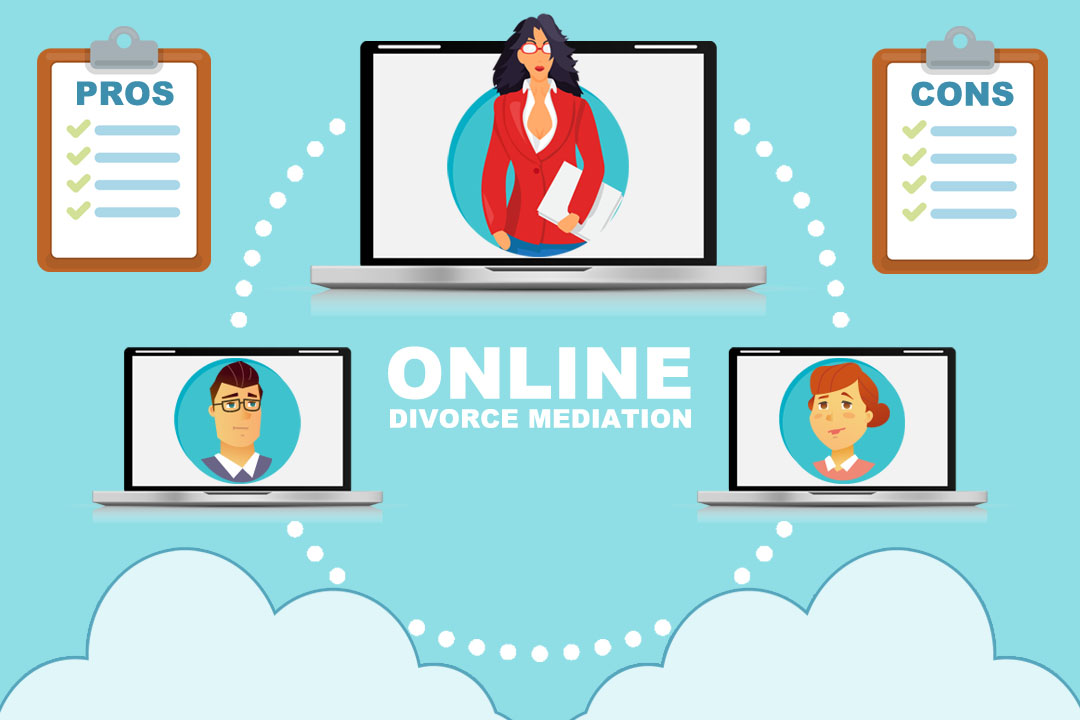 The pros and advantages of online divorce mediation include:
Never go to court
Professional help reaching agreements
Cost less than litigated divorce
Simple online process
Online video conferencing
Mediate on your schedule
Divorce mediation from home
The cons and disadvantages of online divorce mediation include:
An online mediator is not allowed to give you legal advice
Not appropriate for cases involving drug abuse or domestic violence
The process of online mediation can fail if both parties cannot compromise or cooperate
Read more about online divorce mediation pros and cons.
What is an Online Divorce Mediator?
An online divorce mediator is a neutral third-party that facilitates discussions between couples who are getting divorced. If you and your spouse cannot come to an agreement on your own, you may benefit from divorce mediation services.
The divorce mediator's role is to help you identify and resolve issues in your divorce. The mediator does not give advice or make decisions for you; rather, they facilitate a conversation or series of conversations around the divorce settlement to help you and your soon to be ex-spouse work out the resolution to all of your divorce issues.
Online Divorce Mediation Process
The online divorce mediation process includes:
Choose your mediator
Meet your divorce mediator and provide information
The divorce mediator identifies needs and interests
Attend additional divorce mediation meetings in a virtual environment
Compromise and negotiate to reach a divorce settlement
Mediator prepares the settlement agreement
Like any process, divorce mediation only succeeds if you work diligently through it. Mistakes along the way can derail you quickly, and make recovery difficult. This is why it's important that you hire an experienced divorce mediator to help you and your family.
What Do I Need to Start Online Divorce Mediation?
Requirements to begin online divorce mediation includes:
Video Conferencing Platform
Webcam
Internet Connection (high-speed)
Computer Microphone
Speakers or Headphones
How Much Does Online Divorce Mediation Cost?
Divorce mediation online costs about $200 to $400 per hour vs typical divorce mediation services where you meet in-person which can cost upwards of $500 to $1,500 on average.
Online Divorce Mediation Fees & Options
4 Hour Online Divorce Meditation Session: $1,000 ($250 per hour)
Full-Service Online Divorce Mediation starting at $2,500
Hourly Online Divorce Mediation ($400 an hour)
Contact us to discuss other options that work with your schedule and budget.
Package 1 ($1,000 deposit)
We know legal separation and divorce are hard, so we make the process of hiring us simple and easy. With package 1, the parties meet with a divorce mediator for an online mediation session(s). During the mediation process, you work with an experienced mediator to help you reach a settlement quickly that is fair to everyone. We will memorialize your agreements and explain next steps to finalize your divorce or legal separation.
Package 2 ($2,500 deposit)
Need "in-depth" mediation or legal separation options. Package 2 includes the services described in the first package, and also includes us preparing all necessary paperwork to start and finalize a divorce or legal separation. The deposit will secure up to 6 hours of a mediator's time and document preparation. The only additional costs are the required court filing fees and costs for divorce or legal separation, and any additional mediation time above 6 hours.
Package 3 and 4
We also offer hourly consulting for mediation. Contact us to discuss other options that work with your schedule and budget.
*Diclaimer: These rates may change. The information listed above is for informational purposes and is not a promise to provide services or at these rates. A representation agreement is provided in every case, which details the scope of services to be provided and the cost of services.
Why Choose Ogborne Law for Online Mediation
There are many reasons to choose Ogborne Law for divorce mediation services including:
Affordable divorce mediation services
Flat fees
Award-winning Family Lawyer
Custom-tailored solutions to your family's unique needs
Practicing Family Law since 2012
Speak with Our Online Divorce Mediator Today
While the online divorce mediation process is not for everyone, it can save you money, stress, and hassle. Speak with a professional divorce mediator to find out if divorce mediation is right for your family.
Let Ogborne Law show you how online divorce mediation services can be a perfect solution to allow you to end your marriage without ending your family. Call Ogborne Law today at 480.526.9006 or fill out our contact form to speak with an online divorce mediator in Phoenix or Scottsdale.