What is Divorce Mediation?
Divorce mediation is a common way to negotiate an out-of-court settlement between you and your spouse. In divorce mediation, you and your soon to be ex-spouse hire a neutral third party known as a mediator. The purpose of mediation is to help both of you identify and resolve divorce issues. Divorce mediation can be used to address a wide range of topics including but not limited to parenting plans, child support, custody arrangements, and division of assets.
What is a Divorce Mediator?
A divorce mediator is a neutral third-party that facilitates discussions between couples who are getting divorced. If you and your spouse cannot come to an agreement on your own, you may benefit from divorce mediation services.
The divorce mediator's role is to help you identify and resolve issues in your divorce. The mediator does not give advice or make decisions for you; rather, they facilitate a conversation or series of conversations around the divorce settlement to help you and your soon to be ex-spouse work out the resolution to all of your divorce issues.
According to Nolo, "Anyone going through a divorce should consider mediation, which can work for almost all couples and has a long list of benefits."
Divorce Mediation Process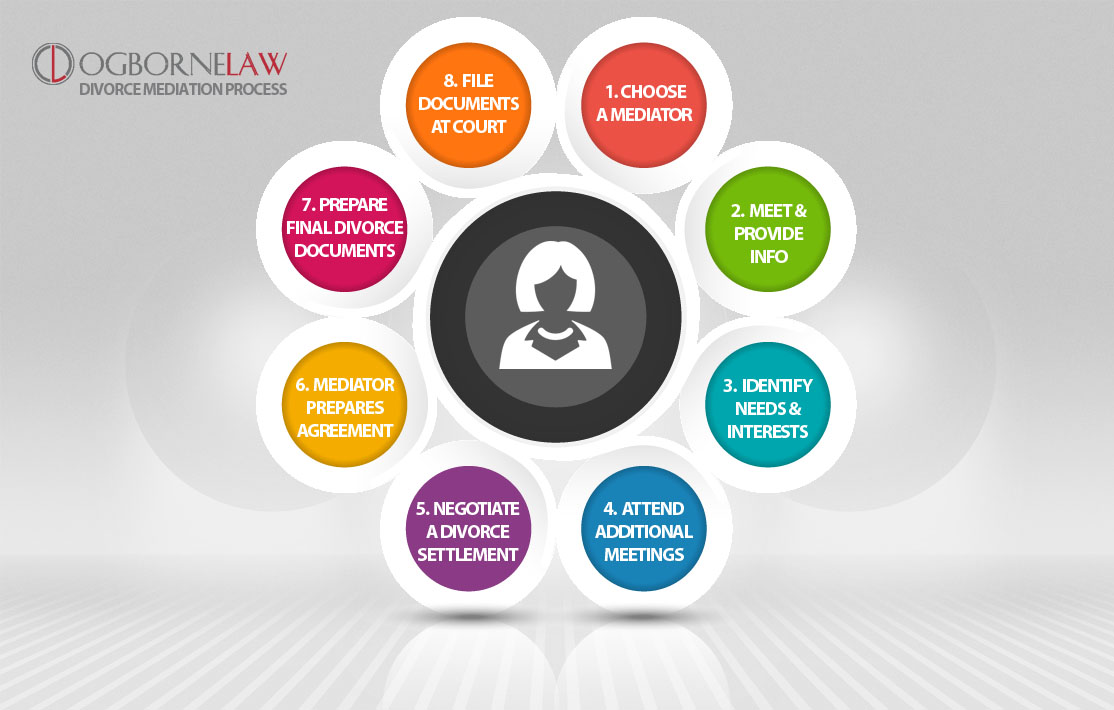 The divorce mediation process includes:
Choose your mediator
Meet your divorce mediator and provide information
The divorce mediator identifies needs and interests
Attend additional divorce mediation meetings
Compromise and negotiate to reach a divorce settlement
Mediator prepares the settlement agreement
Mediator prepares final documents for court
File documents with court
According to DivorceNet, "Many mediators, especially those who are also lawyers, will prepare the written settlement agreement that will be filed with the court. However, you should also have a lawyer of your own look over the draft agreement on your behalf."
Like any process, family mediation only succeeds if you work diligently through it. Mistakes along the way can derail you quickly, and make recovery difficult. It is not a magic bullet that works regardless of what you do.
Divorce Mediation Cost vs Litigation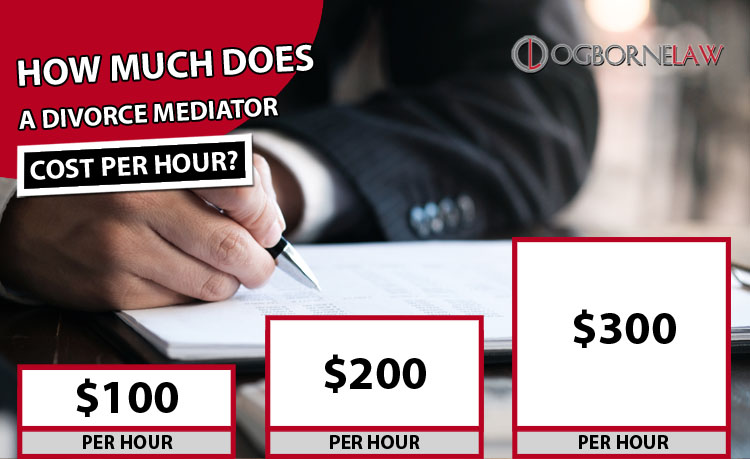 On average divorce mediation cost about $1,000, with average prices ranging from $500 to $1,500 in the US for 2020 according to Thervo. The cost to hire a private mediator is about $200 per hour with average lawyer fees ranging from $100 to $300.
The average cost of a mediator is about $200 per hour with average prices ranging from $100 to $300 per hour in the US for 2020. Thumbtack says, "Some private mediators charge by the hour. Typical rates are $100–$300 an hour. Other mediators charge set full- and half-day rates."
The national average cost of divorce mediation services is $1,500, with minimum costs at $500 and maximum costs at $8,000. The average cost of divorce mediation services per hour is about $200 per hour with minimum costs at $100 per hour and maximum costs at $1,000 per hour.
Equitable mediation says you can expect to pay between $7,000 to $10,000 for the total cost of divorce mediation services. They also warn against hiring a cheap divorce mediator as they offer little to no help when it comes to the document collection process or teaching you how to complete the worksheets you need. Don't hire a mediator based on price. Hire a mediator based on their process and experience. The last thing you want to do is go to court to discuss something that wasn't taken care of during your sessions.
Divorce mediation costs less than traditional/litigated divorce in court. You can participate whether you are represented by an attorney or not. And it promotes open communication for a cooperative decision-making process. The cost of traditional divorce in Phoenix, Arizona is staggering. Attorneys estimate that the average cost of divorce in litigation is anywhere from $15,000 to $20,000 per spouse. Attorneys will bill by the hour and typically require a cash retainer upfront.
How do I Find a Divorce Mediator Near Me?
You can easily find a divorce mediator near you by looking at Google.com and searching "find a divorce mediator near me". If you are searching for divorce mediators in Phoenix, Ogborne Law can help! We offer professional divorce mediation services in Phoenix and surrounding areas. Canterbury Law Group says, "Divorce mediators do not have to be lawyers, but they typically are and are always knowledgeable about the law. It's best to choose one of these mediators so he or she can help you both make informed decisions regarding the separation process".
Do I Need a Lawyer for Divorce Mediation?
Yes. When you hire a mediator, make sure he or she is an attorney. Divorce law can be complex, and working with a non-lawyer will usually mean less understanding of the law and the process. Limit your mistakes by working with a qualified attorney. KarenCovy says, "The role of a divorce mediator is very different from the role of a lawyer. One person can't do both jobs."
Keep in mind that, when it comes to preparing for mediation, you need professional guidance. Do-it-yourself divorces and paperwork are not specific to you or your situation. Don't go it alone. Instead, bring in legal expertise for your family mediation.
How Long Does Divorce Mediation Take?
Typically, divorce mediation takes about 3 or 4 sessions over 1 or 2 months. According to FamilyFindLaw, "Every case is different, but the average case usually takes at least three to four two-hour mediation sessions, spread out over at least a month or two. More complex cases can take four to six months to complete."
Collaborative Divorce Is Another Out-of-Court Divorce Option
Similar to mediation, collaborative divorce, also known as collaborative law or collaborative practice is a legal divorce process allowing couples who have made the decision to end their marriage or separate to work with collaborative professionals of their choice including collaborative lawyers, communication coaches, and financial neutrals to avoid court and reach a settlement that meets the needs of both spouses and children.
In the simplest form, "a collaborative law divorce is a process by which parties use mediation and negotiations to settle their divorce" according to FamilyFindLaw. The collaborative process allows both parties to reach a fair settlement.
One of the biggest benefits of collaborative law is that it can help you save money when compared to the high cost of litigating your divorce.
Speak with Our Divorce Mediators in Phoenix, Arizona Today
While the divorce mediation process is not for everyone, it can save you money, stress, and hassle. Speak with a professional divorce mediator to find out if divorce mediation is right for your family.
Let us show you how divorce mediation can be a perfect solution to allow you to end your marriage today without ending your family.
If you're ready to start your consultation with Ogborne Law, visit our Mediation Consultation request page.
Ogborne Law can help with divorce mediation in Phoenix, Arizona, and surrounding areas. Our law office is located at 5020 E Shea Blvd Suite 240, Scottsdale, AZ 85254 inside the Paradise Valley Plaza.
Let us show you how divorce mediation can be a perfect solution to allow you to end your marriage today without ending your family.
Engaging with an attorney to protect your family is never an easy step. Whether you need to protect your family from the unthinkable or restructure your family through collaborative divorce, we're here to help. When you're ready to schedule a consultation with Michelle Ogborne, please visit the scheduling page to get started.