Divorce Mediation Pros and Cons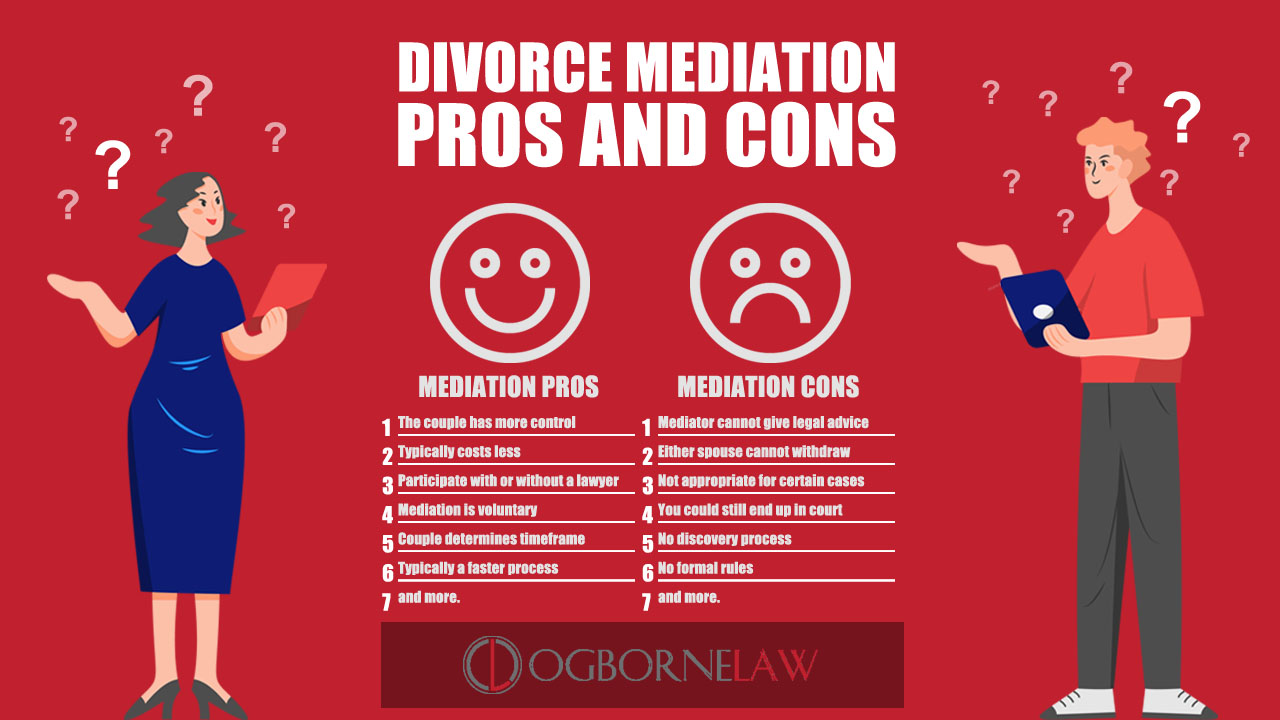 Divorce Mediation is one of the most popular ways to negotiate a divorce settlement in the United States. In divorce mediation, you and your soon to be ex-spouse hire a neutral third party known as a mediator. The purpose of mediation is to help both of you identify and resolve divorce issues. Divorce mediation can be used to address a wide range of topics including but not limited to parenting plans, child support, custody arrangements, and division of assets.
Many couples facing divorce are wondering if divorce mediation is right for their situation. Here you will find a list of the pros and cons of divorce mediation to help you decide.
The pros and cons of divorce mediation include:
Pros of Divorce Mediation
The couple has more control over the mediation process and outcome
Mediation typically costs less than a litigated divorce in court
Individuals can participate with or without a lawyer
Open communication is promoted for a collaborative decision-making process
Reduces the likelihood of going to court for post-divorce litigation
Divorce mediation is voluntary and informal
No fighting in court
Divorce records are kept private
Individuals share the burden of costs related to mediation
The couple determines the timeframe and issues to discuss
If mediation does not work, you can still go to court for a divorce
Mediation is typically a faster process when parties work together
Not fighting in court equals less stress for both participants
Healthier divorce for children and everyone involved
Cons of Divorce Mediation
Mediators cannot give individuals legal advice like a lawyer can
If your spouse has a lawyer but you do not, you won't have anyone looking out for your best interests
You will not have anyone to review your divorce agreement if you don't consult an attorney
Either spouse can withdraw from divorce mediation at any time
Mediation is not appropriate for cases that involve drug abuse or domestic violence
If divorce mediation does work, you may end up litigating your divorce
No discovery process or formal rules
Divorce mediation will not work if individuals are not willing to compromise or cooperate
Some people end up feeling like they agreed to an unfair divorce settlement
Do I Need a Lawyer in Divorce Mediation?
No, you are not required to hire a lawyer if you choose divorce mediation. However, if your spouse does hire a lawyer but you do not, you may end up feeling like you agreed to an unfair settlement. If your spouse has a lawyer looking out for their best interest, you might want to consider having a lawyer look out for yours. If you feel like you will be less empowered or get tongue-tied by attending mediation by yourself, consider hiring a lawyer to represent you in mediation.
Collaborative Divorce vs Divorce Mediation
Collaborative divorce is remarkably similar to divorce mediation as they are both processes that keep your divorce out of court. However, collaborative divorce includes having lawyers represent both sides to promote a settlement agreement that benefits both parties.
Speak with a Divorce Mediator in Phoenix, Arizona Today
Regardless of the choice you make, it's important you make the best choice for you when hiring a divorce mediator or divorce attorney. Remember: The decisions you make now can affect your future. Ultimately, choosing the best lawyer will depend on which lawyer feels best for you and your situation. Let us show you how to end your marriage today without ending your family.
Ogborne Law can help with divorce mediation in Phoenix, Arizona, and surrounding areas. Our law office is located at 5020 E Shea Blvd Suite 240, Scottsdale, AZ 85254 inside the Paradise Valley Plaza.
See Also:
Engaging with an attorney to protect your family is never an easy step. Whether you need to protect your family from the unthinkable or restructure your family through collaborative divorce, we're here to help. When you're ready to schedule a consultation with Michelle Ogborne, please visit the scheduling page to get started.