How Much Does a Will Cost?
Do it yourself will preparation costs about $150. The average cost to have a lawyer draft your will for you comes with a price tag of $750 with average prices ranging anywhere from $300 to $1,000 in the US for 2020, according to Investopedia and multiple online sources.
Do It Yourself Will Preparation Cost
Do it yourself will preparation can cost you as little as $150 but will only work when creating simple wills. Drafting your will online will save you time and money. However, online will preparation services you don't provide you with a professional to review your will to ensure it's accurate and legally valid.
Even if you do make your own will you still might need a professional to review it. TheBalance says, "You might want to have a professional review your finished product for accuracy and validity, even if you do decide to write your will yourself".
How Much Does it Cost to Make a Will with a Lawyer?
According to Thumbtack, you can expect to pay anywhere from $940 to $1,500 to have an attorney create a will for an individual person.
If you have children, complicated financial affairs, and a large estate, your will is going to cost more than someone with no kids, no property, and uncomplicated financial issues.
Will Attorney Fees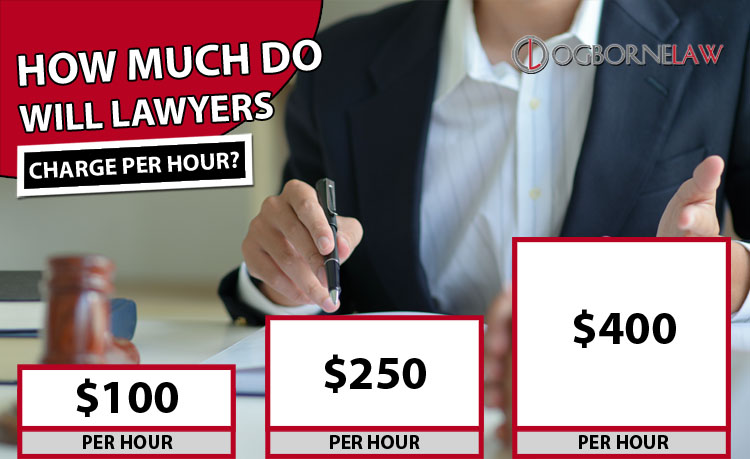 Will attorney fees will cost you $250 per hour with average prices ranging from $100 to $400 per hour depending on the will attorney you choose, your location, and other factors.
Investopedia says, "hiring a lawyer to draft a document may cost anywhere from $100 per hour to $400 per hour or more".
Average Cost of a Simple Will
Depending on how complicated your will is and other factors, you could end up spending anywhere from a few hundred dollars to several thousand to create a simple will.
The average cost of a simple will is about $300 to $1,000 in the US for 2020 according to multiple trusted sources.
According to Nolo, "It's very common for a lawyer to charge a flat fee to write a will and other basic estate planning documents. The low end for a simple lawyer-drafted will is around $300. A price of closer to $1,000 is more common, and it's not unusual to find a $1,200 price tag".
Average Cost of Will Preparation
Do It Yourself: $150
Make a Will With a Lawyer: $300 – $1,200
Will Attorney Fees – $100 to $400 per hour
Simple Will: $300 to $1,000
Find Will Attorneys in Phoenix, Arizona
Need a will lawyer in Phoenix, Arizona? Ogborne Law can help! Estate planning is the right thing to do for the people you love. It's another way to say "thank you" to those who love you. Some of the decisions are hard, but at Ogborne Law, we will help you navigate these difficult decisions.
Your Arizona estate planning attorney can help you select a will or trust or both. Your estate solution will work for you. You will have the peace of mind that comes with effective planning for the future. Call 602.343.1435 or contact Ogborne Law with questions. Learn more about wills in Arizona.
Our service area for wills in the Phoenix, Arizona area includes Paradise Valley, Fountain Hills, Cave Creek, Glendale, Carefree, and more. We also service many popular Phoenix neighborhoods such as Paradise Valley Village, Desert Ridge, Desert View Village, Norterra, Deer Valley, North Mountain Village, Arrowhead Ranch, Camelback East Village, Arcadia, Kierland, and more.
*Disclaimer – The information provided on this website is not intended to constitute legal advice. Contact an attorney if you need legal advice. This is not an actual quote.
Engaging with an attorney to protect your family is never an easy step. Whether you need to protect your family from the unthinkable or restructure your family through collaborative divorce, we're here to help. When you're ready to schedule a consultation with Michelle Ogborne, please visit the scheduling page to get started.