What is a Separation Agreement?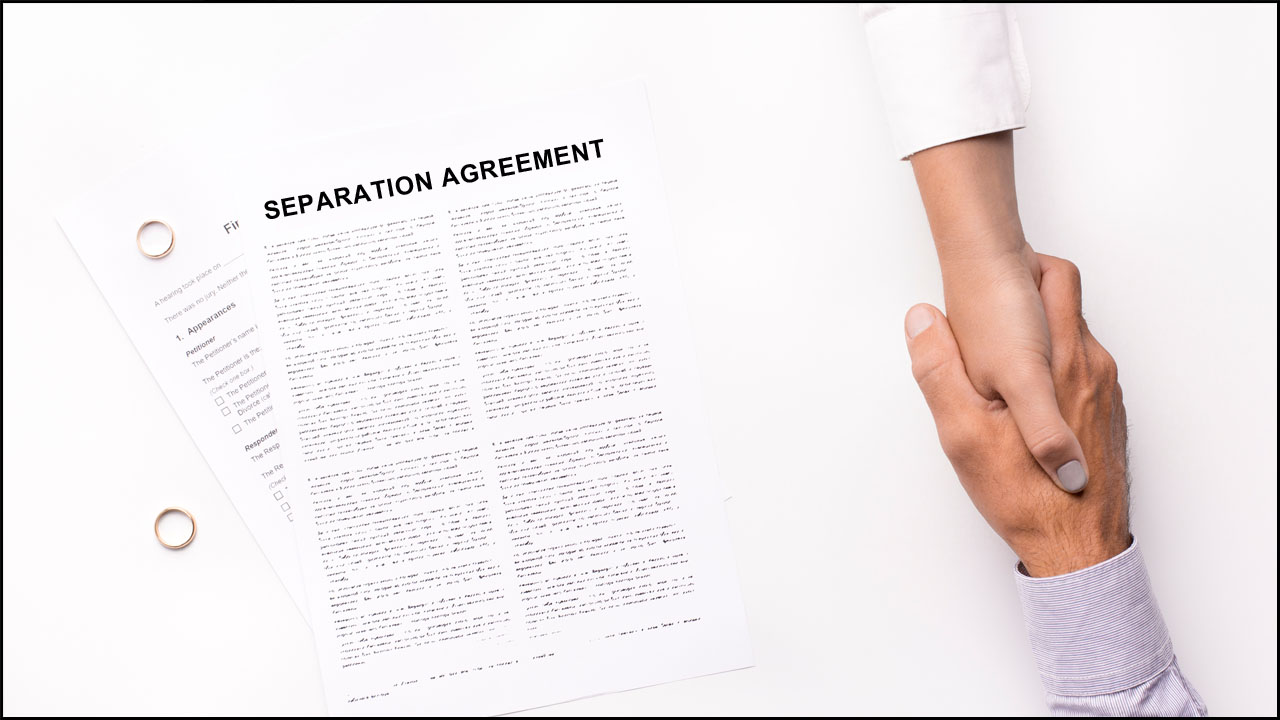 A separation agreement, by definition, is an agreement between two spouses that outlines how children and property will be managed during a separation. This may include dividing of assets and debts (marital property), spousal maintenance, child support, legal decision making, and parenting time, if needed.
According to Forbes.com, a legal separation agreement is: "a legally binding agreement between [spouses] to resolve issues such as the division of assets and debt, alimony/spousal support, child support, and visitation." This can also be called a Marital Settlement Agreement, a Marital Separation Agreement or a Property Settlement Agreement. These documents are commonly used in both legal separation and divorce matters.
Separation Agreement Arizona
A separation agreement in Arizona A.R.S. § 25-317 is a contract made by a judge or spouses during the legal separation process or a divorce. An Arizona separation agreement should include how spouses will split or share custody (legal decision making) and visitation (parenting time) of children, whether spousal support (spousal maintenance) or child support will be provided, and how spouses will divide assets and debts. Both parties must agree to divorce terms before signing paperwork. If either party objects to the agreement, the court will make a decision on disputed issues.
25-317. Separation agreement; effect
To promote amicable settlement of disputes between parties to a marriage attendant on their separation or the dissolution of their marriage, the parties may enter into a written separation agreement containing provisions for disposition of any property owned by either of them, maintenance of either of them, and support, custody and parenting time of their children. A separation agreement may provide that its maintenance terms shall not be modified.
In a proceeding for dissolution of marriage or for legal separation, the terms of the separation agreement, except those providing for the support, custody and parenting time of children, are binding on the court unless it finds, after considering the economic circumstances of the parties and any other relevant evidence produced by the parties, on their own motion or on request of the court, that the separation agreement is unfair.
If the court finds the separation agreement unfair as to disposition of property or maintenance, it may request the parties to submit a revised separation agreement or may make orders for the disposition of property or maintenance.
If the court finds that the separation agreement is not unfair as to disposition of property or maintenance and that it is reasonable as to support, custody and parenting time of children, the separation agreement shall be set forth or incorporated by reference in the decree of dissolution or legal separation and the parties shall be ordered to perform them. If the separation agreement provides that its terms shall not be set forth in the decree, the decree shall identify the separation agreement as incorporated by reference and state that the court has found the terms as to property disposition and maintenance not unfair and the terms as to support, custody and parenting time of children reasonable.
Terms of the agreement set forth or incorporated by reference in the decree are enforceable by all remedies available for enforcement of a judgment, including contempt.
Except for terms concerning the maintenance of either party and the support, custody or parenting time of children, entry of the decree shall thereafter preclude the modification of the terms of the decree and the property settlement agreement, if any, set forth or incorporated by reference.
Notwithstanding subsection F, entry of a decree that sets forth or incorporates by reference a separation agreement that provides that its maintenance terms shall not be modified prevents the court from exercising jurisdiction to modify the decree and the separation agreement regarding maintenance, including a decree entered before July 20, 1996.
Do I Need a Legal Separation Lawyer?
Sources suggest hiring a legal separation lawyer if your not sure how the legal separation process works, not sure how to make a separation agreement on your own, or are worried about navigating the legal system without advice. MyDomaine says, "Overall, since laws vary from state to state be sure to check with an attorney to make sure you are taking the correct steps to legally protect yourself."
See Also:
Speak with Our Legal Separation Lawyers in Phoenix, Arizona Today
Ogborne Law can help with a legal separation in Arizona. Our legal separation lawyers have many years of experience in drafting separation agreements. Our law office is located at 5020 E Shea Blvd Suite 240, Scottsdale, AZ 85254 inside the Paradise Valley Plaza.
While the legal separation process is not for everyone, it can save you money, stress, and hassle vs getting a litigated divorce. Speak with our legal separation lawyers in Phoenix, AZ to find out if legal separation is right for your family.
If you're ready to start your consultation with Ogborne Law, visit our Consultation request page.
Contact Ogborne Law today and let us show you how we can help protect your kids and your family.
Engaging with an attorney to protect your family is never an easy step. Whether you need to protect your family from the unthinkable or restructure your family through collaborative divorce, we're here to help. When you're ready to schedule a consultation with Michelle Ogborne, please visit the scheduling page to get started.